Project management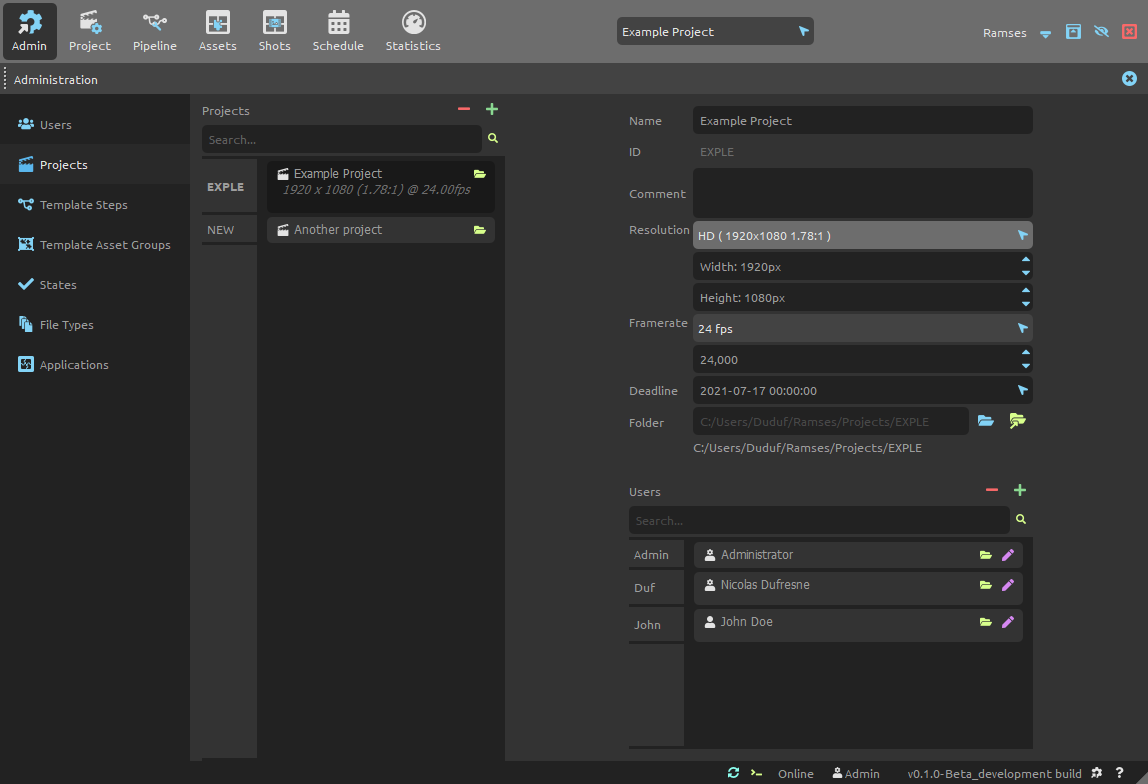 This panel is used to list and manage all projects of Ramses.
List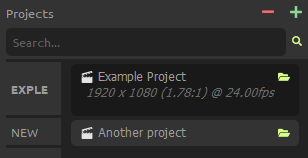 The list on the left lists all the projects, and you can use the Search field to filter them by name or ID.
When changing the size of the rows in the list, more details about each project can be displayed. The
folder button on the top right corner for each project in the list opens the project folder in your file explorer.
Use the
button to create a new project. The
button removes the selected projects from Ramses1.
You can use the [Shift + A] shortcut key to quickly add new projects.
You can use the [DEL] or [Shift + X] shortcut key to quickly remove selected projects.
You can scroll all lists using [Middle click] as well as the [Mouse wheel].
Edition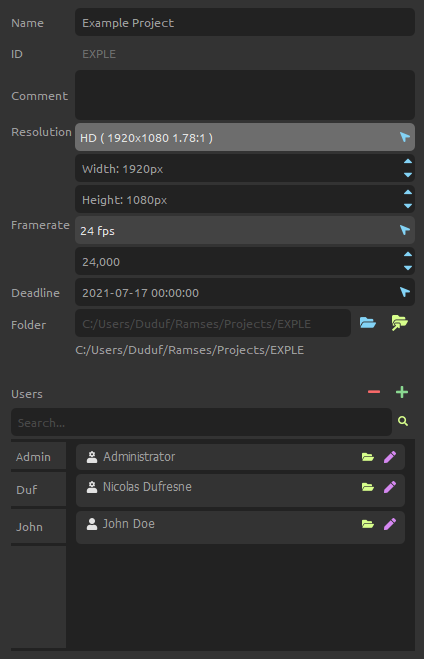 Name is the project's display name and can be changed any time.
ID is the unique identifier which is used in the files and folders (see Ramses Tree). It can't be changed after the project folder has been created. Read the Ramses naming conventions to learn how IDs and names have to be formatted.
Comment can be any text associated to the project.
Resolution is the width and height of the final video, in pixels. The first button allows you to quickly select from a list of common resolutions.
Framerate is the framerate of the final video, in frames per second. Use the first button to quickly select it from a list of common framerates.
Deadline is the date at which the project must be finished and delivered.
You can change the folder where the project files are stored.

Leave the field empty to set back the default folder inside the Ramses Tree.
The blue button opens a folder selector to change the folder location.
The green button opens the folder in your file explorer.

Use the Users list to assign and unassign users to the project.

The button contains a list of available users, and an entry to quickly create a new user without having to switch to the users tab.
The button unassigns the selected users from the project but does not remove them from Ramses. You can also use the [DEL] key.
From the list, you can use the folder button to quickly open a specific user folder, and the edit button to edit them in a side docked panel. Read the user management section for more details about user edition.
▹ More details about Projects and Ramses.
---
The data is not actually deleted from the server nor the local data, but just flagged as removed. A server administrator can still restore the data at any time, but there is no way (yet) to do that from the user interface of the application. ↩