Sequence settings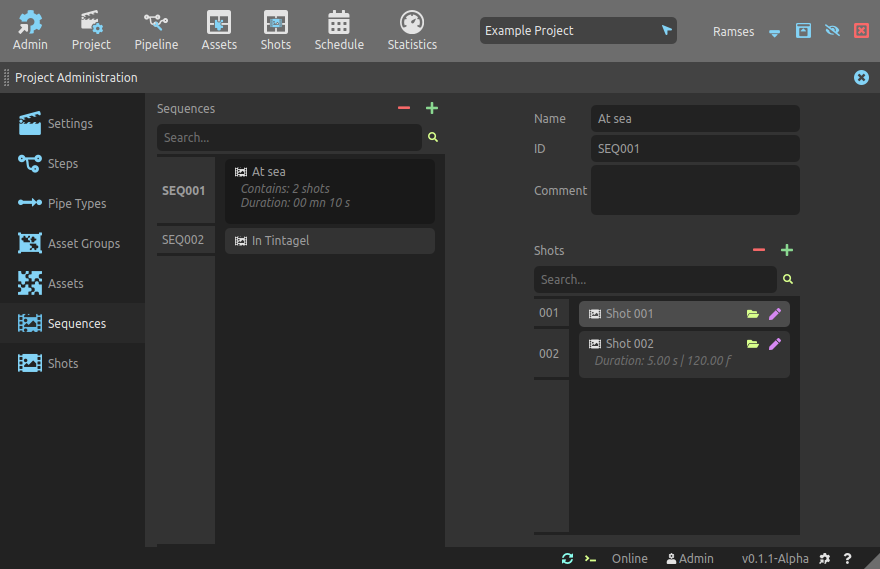 This panel is used to list and manage all the sequences of the project. Sequences are used to help you sort and filter the shots of the project. They're not used in the Ramses Tree.
List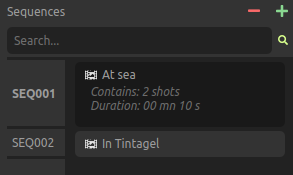 The list on the left lists all the sequences of the project, and you can use the Search field to filter them by name or ID.
When changing the size of the rows in the list, more details about each sequence can be displayed.
Use the
button to create a new sequence. The
button removes the selected sequences from the project1.
You can use the [Shift + A] shortcut key to quickly add new sequences.
You can use the [DEL] or [Shift + X] shortcut key to quickly remove selected sequences.
You can scroll all lists using [Middle click] as well as the [Mouse wheel].
Edition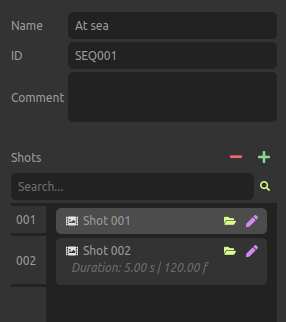 Name is the sequence's display name.
ID is the unique identifier. It is usually just a number, possibily with a simple prefix. Read the Ramses naming conventions to learn how IDs and names have to be formatted.
Comment can be any text associated with the sequence and describing it.
Shots contained in the sequence are listed in the bottom section.

The button instantly creates a new shot contained in the current sequence.
The button removes the selected shots from the project1. You can also use the [DEL] key.
From the list, you can use the folder button to quickly open a specific shot folder, and the edit button to edit them in a side docked panel. Read the shot settings section for more details about shot edition.